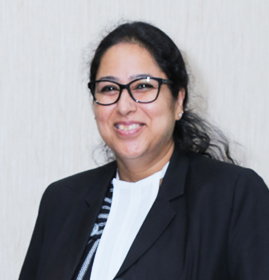 Ms. Gurkamal Hora Arora
Ms. Gurkamal Hora Arora is a corporate lawyer having an experience of about 20 years. She joined Intellect Law Partners (earlier known as Ashish Aggarwal & Co.) in the year 1997. A Science graduate from Hansraj College, Delhi University, she is a member of various associations like the Delhi High Court Bar Association and Delhi Bar Association. She is also a mediator appointed by the Hon'ble High Court of Delhi.
While associated with the firm, she has been handling hard core litigation matters and providing legal consultancy in various fields of law including matters concerning IPR's, Commercial, Company Law, Civil law, Banking, Arbitration, Consumer and Negotiable Instruments etc. before the Hon'ble Supreme Court of India, Hon'ble High Court of Delhi, Hon'ble Company Law Board, Debt Recovery Tribunal, Debt Recovery Appellate Tribunal, Hon'ble National Consumer Disputes Redressal Commission as well as its State Commission, District Courts, Delhi, and a number of Arbitrators.