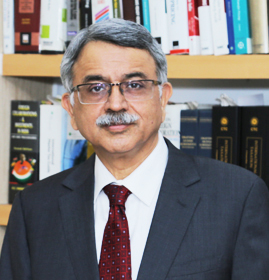 Mr. Vinay Talwar
More than 35 years of experience in Corporate Law and Securities Law, M&A/JV Structuring, FEMA/ RBI, Tax (including International Tax and Transfer Pricing), Finance Advisory, IT, Telecom, Recruitment & Executive Search. Handled multiple IPOs. Negotiated Strategic Alliances and Equity Participation with World leaders. Negotiated and finalised a number of Shareholder Agreements. Worked out Entry Strategies, Restructuring Plans, and Loan Syndication deals. Significant experience in dealing with the full range of business and legal challenges faced by emerging companies across Industries.
Extensive experience in capital and debt financing, domestic and international (FDI / ECB), acquisitions and divestments, with strong relationships with Banks/ Private Equity/ Investment / Merchant Banking companies. Successfully promoted and set-up two leading software, internet services and computer education service companies.
Fellow member of the Institute of Chartered Accountants. He has over the years established a good global network of contacts in the Banking, Finance, Legal, Information Technology (IT), Telecommunications, Insurance and Executive Search Industries.